I recently had a chance to question away to my heart's content with one of the absolute legends of the Japanese denim world: Iron Heart's Shinichi Haraki. Haraki-san created Iron Heart in 2003 and has been blowing us away with his heavy and hard-wearing clothing ever since. Between coming up with new ideas for the next season's clothing, working with his craftsmen, checking orders, preparing and shipping samples, visiting the denim mills, traveling around the world for shows and meeting with select vendors, and of course finding time to ride his Harley(s), Haraki-san is a busy man. I'm therefore extra grateful he was able to find the time to answer my questions. Enjoy.
Japanalogue: What was the original aim or motivation for you starting up your own company?
I started Iron Heart when I was 46 years old. By that time I had already been working and making clothes for various other brands for about 20 years, so I felt like it was time for me to start making clothes on my own, using my own ideas and making things I myself wanted to make. This led me to start up my own brand, Iron Heart.
I have to say "Iron Heart" is a pretty cool name as far as brand names go…fits perfectly. Did you just make it up or…
Actually, I was just having a few beers with some friends one night, and as I was standing in the bathroom the name suddenly came to me, just sort of fell from the sky, and that was that.
In the beginning when you were just starting out with Iron Heart, were you satisfied with the stuff you were making right off the bat or did it take some time to get things to a level you felt good about?
During the first five years, I had money from my other job (I was still contracted out to another company) and I was slowly starting to make my own jeans while still doing my contracted work. I had to improve the fabric so many times and keep modifying the patterns. I was making clothes, but I wasn't satisfied with the results. As far as I recall, I think it was about five years even beyond that before I finally reached a level I was satisfied with.
Do you see any general differences between customers or denim fans here in Japan and those overseas? Maybe like what kinds of cuts, styles, or fabrics each prefer? Or how they wear their clothes?
Well we of course originally appealed mainly to bikers and here in Japan, and that appeal continues even now. So in Japan, the majority of the people buying our clothing are actually bikers. Overseas however it seems more that the majority of our customers aren't actually bikers, but instead are people that are just really interested in heavy, high-quality Japanese denim, and they know a lot about and love the jeans themselves, maybe even more than the customers who buy them mainly as clothing for riding.
I read somewhere that you aren't really into high-contrast fades. I think, ironically, there are actually a lot of people out there who buy Iron Heart for that very reason (achieving those crazy fades). What do you think about that? Is it even true that you don't really buy into that look or is that just a rumor?
No, it's true. I don't like those kind of showy "Hey look at me!" high-contrast fades. I do however love the whole thing of wearing something from it's new and raw state. I guess the point here is that when creating denim I don't choose what thread to use or which particular shade of indigo to go with based on how I think the fabric is going to fade. I'm more concerned with if it's dyed dark enough and dyed properly. This is totally different from some other brands which do tend to use how they think something is going to fade as the main basis and aim for how they actually create their fabric.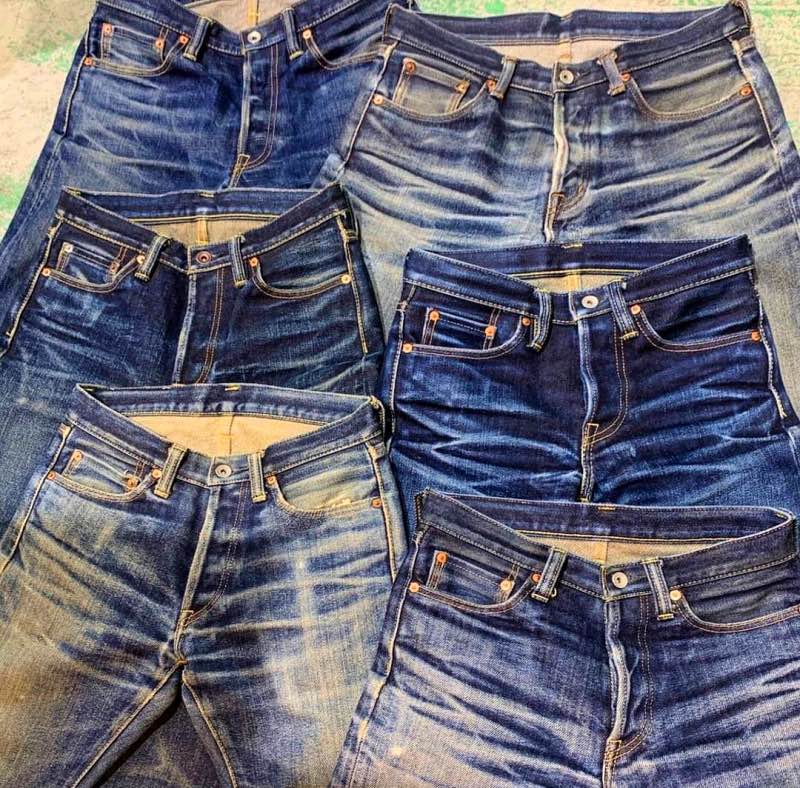 I can't even really imagine it, but do you think you'd ever go any heavier than your current 25oz denim or is that kind of the limit of what you'd be willing (or even able) to do?
Well, we can make fabric at any time, but for jeans a person is going to wear every day I'm thinking that 25oz is the limit, so I don't have any plans for going beyond that. I'm also not interested at all in getting into a kind of thickness competition with some of the other brands out there.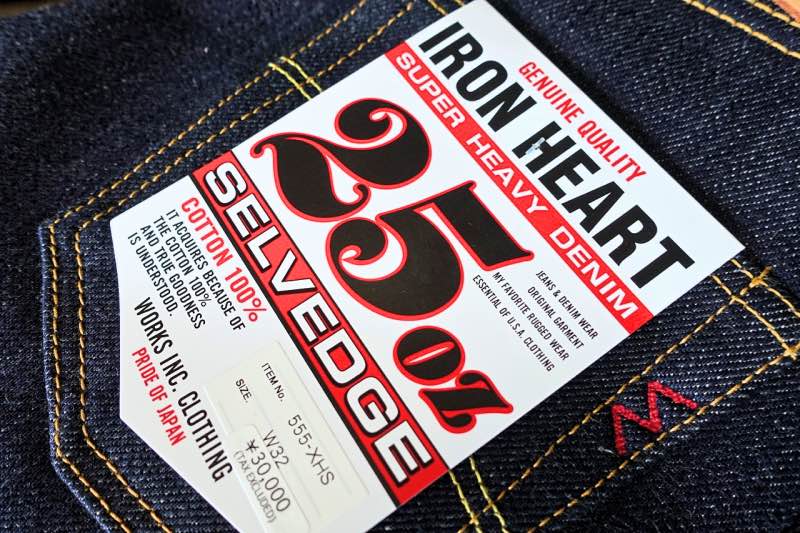 Your 21oz denim is surprisingly soft and comfortable right off the shelf. It's so heavy, but even new it just has this incredible (and somewhat unexpected) soft feeling…why is that? Is there some kind of secret lurking inside there? Honestly, my first pair of 21oz Iron Hearts I decided to buy within about ten seconds of putting them on…
Actually, even aside from the 21oz denim, almost all of our other jeans also have a similar feel. The reason is that we weave our denim so that the weft isn't the usual single thread, but actually two threads running parallel to form a double thread weft. This makes the denim surface on the inside (the part that actually touches your skin) quite soft, not coarse or stiff like you might otherwise get. This has been part of our recipe from the beginning.
For coming up with new ideas or patterns, is it you that makes all of that up? Or do you look for ideas or proposals from people around you?
I've been totally interested in American culture and clothing since I was about 15 years old so now my head is like a storehouse for that kind of stuff. Every year I try to tip that storehouse over and new ideas just sort of tumble out. This is my work and I'll never ask anybody else what to do or how to do it.
At 6' or about 182cm I'd be considered pretty tall here in Japan, but Iron Heart stuff (I'm thinking of the tops here) seems to fit me perfectly. This is not normally the case with most Japanese clothing brands. To get sleeves that are long enough I usually need to go to something crazy here like an XXL, but then the body is way too wide and I end up just looking like an idiot. Are you taking into account a more "Western" body shape when you're designing your stuff?
Fit-wise, the clothes that Iron Heart makes, particularly the jeans, are originally based on classic American casual wear so we didn't adjust things just to match the Japanese market or body type. I think this is the reason why Iron Heart fits the non-Japanese body style so well, because we make them based on the original American classic items and not on what might be called a Japanese body style.
I've been dying to ask you this, but do you and the other major Japanese denim brand owners have much to do with each other? I mean do you guys ever contact each other to exchange ideas or cooperate in other ways? Or do they maybe think that you're doing something completely different from them because Iron Heart is kind of viewed as a 'biker brand' here in Japan?
Basically there isn't really any of that kind of interaction between us. To be honest, I don't even really like to see what that the others are making. It's not that I don't like them, it's that I just want to make the clothes that arise naturally within myself. Business-wise, I don't pay attention at all to what other brands are doing. Trying to follow trends or compete with others like that will inevitably force you to compromise something. So if I see those guys in the marketplace or something, more than considering them as rivals or competition, I just see them as equals who have the same interests and passions as me.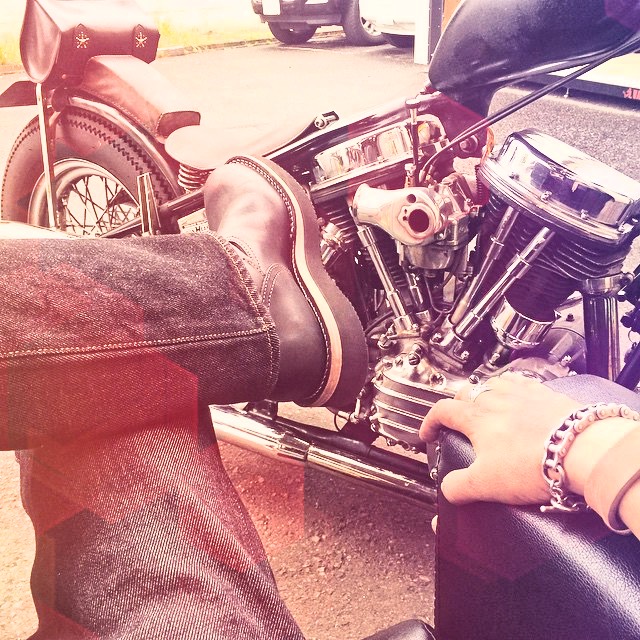 So of course Iron Heart sells both sanforized and unsanforized jeans – which do you personally prefer and why?
Sanforized for me. Iron Heart isn't trying to make exact reproductions of vintage jeans, but instead we're trying to make clothing that has modern value and modern merits as well, constructed in the best way possible. I'm always thinking of ways to incorporate new technology into our clothes.
What would a normal workweek look like for you? I have this impossibly romantic image of what you do, but I'm sure the reality is totally different…I imagine you just cruising around the country on your Harley, smiling and thinking up cool ideas for things to make…but I'm sure your job is much harder than that…
It's 7 days a week for me. In other words, I don't take time off. The kinds of things I might do in a regular day would be checking products that have just been finished, getting samples ready for next year's releases, working on ideas for the season even after that, trying to manage making clothes for three seasons… Busy, but I'm not tied to a desk, so that part's great. I'm always on the move, in my car or on my bike, visiting the denim factories, checking on the sewing factories, etc. I get to taste the wind and the rain, feel the heat and the cold…and that's what makes my job fun.
We're often hearing that the supply of quality Japanese selvedge denim can't meet the demand. The old machines are breaking down and there aren't any spare parts, the operators are getting older, with no young people wanting to continue the tradition. Do you think we can avoid a real selvedge denim shortage in the future? Or perhaps having a limited supply of quality Japanese denim could even be a positive thing in some way? I'd like to hear your opinion on all of this.
In Japan at the moment, I can really only see maybe two or three fabric houses, meaning spinning, dyeing, and weaving actually surviving in the future. This means that the supply shortage is going to continue, and no, I definitely don't think that's a good thing. At this stage, cooperation is vital to survival so we are doing our best to take care of several fabric and sewing factories to the extent we are able, but this on its own is nowhere near a level where we can help the industry as a whole so…yes, I'm really concerned about it.
Do you cuff your jeans (roll them up) or have them hemmed?
For me personally, I never roll up my jeans. I wear them properly hemmed to preserve the overall silhouette of the jeans.
Is the material for your heavy flannels all made in Japan as well? And how are the colors or patterns decided each year?
Yes, everything is dyed and woven at a single shop in Niigata, Japan. As for colors and patterns, they all come from either vintage styles or from whatever images I have in my head.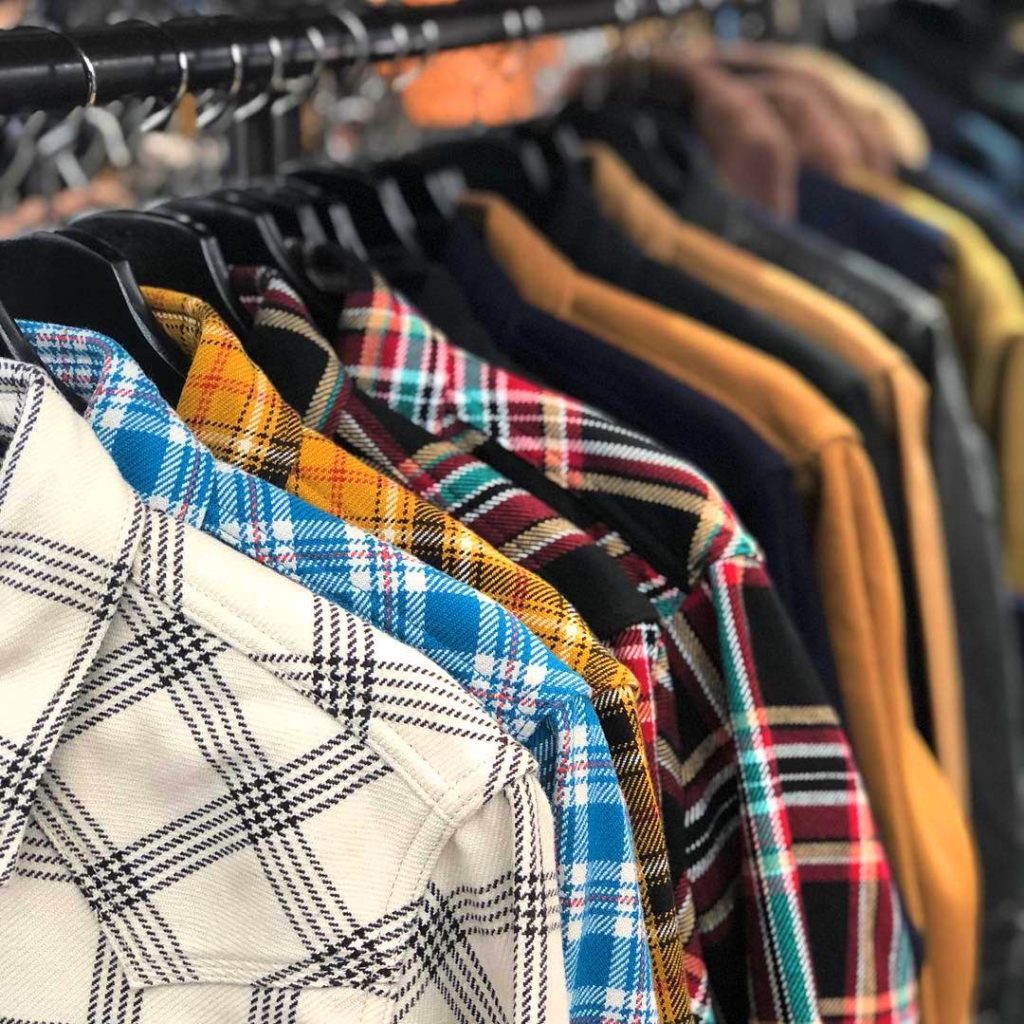 This is no way connected to jeans, but I have to know. What is that bike you have? It looks awesome, and it's obviously a Harley, but with all the custom parts on it I wasn't sure exactly what model it was…
Well, for Harleys, I've got a Street Glide, a Sport Glide, and a 25-year old Softail. I also ride a BMW GS1200R.
So aside from making some of the best clothing in the world and riding motorcycles, what else do you like? I mean what really makes you happy?
When I see people choosing and enjoying Iron Heart clothing I really feel happy. I also love talking to the craftsmen themselves, the people in our production areas, about new ideas for clothing – that's just an awesome feeling. And obviously, there's being out there riding on my Harley. Those are the things that I love.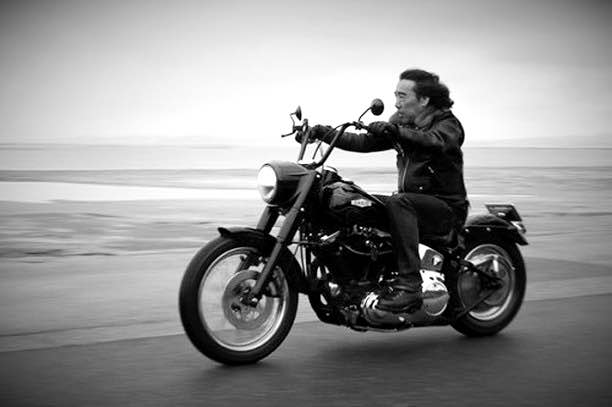 Is there anything you can tell us about the future of Iron Heart? Is there anything we should be expecting? We're always looking forward to what you might release next. And finally, if there's anything you'd like to say to the many Iron Heart fans out there, feel free to do so.
To show love for Iron Heart further into the future, I'm always thinking I'd like to put the production sites all together so we can keep making jeans for a long time to come. I don't mean just trying to pump out as many new products as fast as we can, but just always having enough jeans and flannel to keep the shelves in our shops full is enough, so yeah, just maintaining that. It would also be great to be able to say each season, at least for a few of the things we make, "This is exactly what you wanted to wear, isn't it?" These would be my messages.
Read more on Iron Heart itself here.
Visit Iron Heart International here.
(Special thanks to Haraki-san and Giles Padmore of Iron Heart for use of the photos)